A unisex, woody age beautifully cream. Bursting with anti aging oils, anti oxidants, collagen, natural retinol, hyaluronic acid and enzymes to speed up cell regeneration. Leaves skin hydrated, softens the look of fine lines and wrinkles, replenishes nutrients and rejuvenates the skin at a cellular level.
This cream is designed for all skin types. If you have dry skin you might want to try it in combination with our anti-aging face oil or our facial serum.
It is made with nourishing coconut, argan, avocado, sea buckthorn, pomegranate, black cumin seed, vitamin E and rosehip (natural retinol) oils. Into this we add powerful rejuvenating active ingredients - coenzyme Q10 a natural enzyme to speed cell regeneration, anti oxidants which enliven the skin, marine collagen - this puts collagen back into the skin (small particles, so it can be absorbed) and  dermagen / hyaluronic Acid - replenishes the skin, protects elastin and locks moisture in.  
The Vitamin E prevents premature aging and heals skin. Sea buckthorn oil is ultra-concentrated with some
of the highest levels of nutritive antioxidants

available. Rosehip oil is a nutritive source of skin nourishment, rich in Vitamin C and Omega 3 and 6. Avocado and argan oils 

are packed with nutrition, anti-aging and plump up the skin.

The essential oils  are all added for their anti-aging properties. We also add white beauty orchid essence for some vibrational magic.

Ingredients:  Aqua (spring water), cocos nucifera oil (coconut oil)*,  argania spinosa (argan oil)*, persea gratisima (avocado oil), tocopherol (vitamin E), Punica Granatum (Pomegranate Seed Oil)*, Rosa Mosqueta (Rose Hip Oil)*, Simmondsia Chinensis (Jojoba Seed Oil)*, Hippophae Rhamnoides L (Seabuckthorn Oil)*, hyaluronic acid, Q10 & collagen hydrolysate, white orchid flower essence,* essential oils of frankincense (boswellia carteri) & sandalwood (santalum album), Olivem 1000 (emulsifier), pyrus malus fruit extract (apple cider vinegar)*,  Geogard preservative ECO. * Organic ingredients.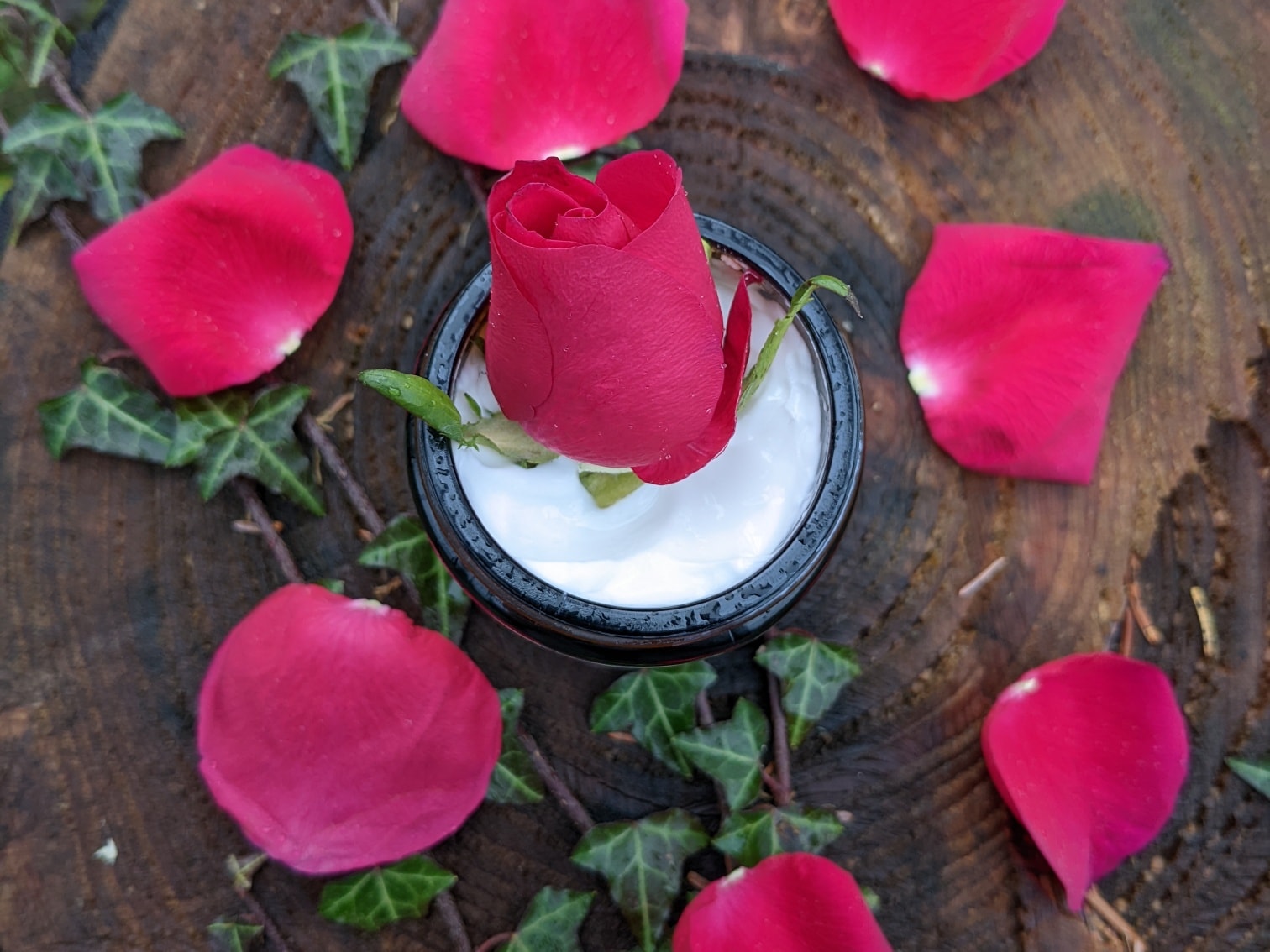 Impressive
Beautiful and Ethical
Luxurious Herbal and skincare products handmade in Whitby, North Yorshire.
Proudcts Often Bought Together